Mission Statement
We are a family of faith sharing God's love by reaching out, touching lives and building relationships.
What We Believe
We believe in a reasonable faith, based on the study of scripture and unity with Christians everywhere. Like most Christians, Disciples affirm:
• Jesus Christ is the son of the Living God, and offers saving grace to all.
• All persons are God's Children.
Beliefs and Practices
An Open Table: The Lord's Supper, or Communion is celebrated as the central act of worship. It is open to all who believe in Jesus Christ
Freedom of belief: Disciples are called together around one essential of faith: belief in Jesus Christ as Lord and Savior. We believe all people are created by God and therefore entitled to respect and freedom; freedom to think for ourselves and to interpret the Bible in our context
Baptism by Immersion: In baptism, the old self-centered life is set aside, and a new life of trust in God begins. Although Disciples practice baptism by immersion, other baptismal traditions are honored
The Ministry of All Believers: Both professional ministers and lay persons lead in worship, service and spiritual growth.
The oneness of the church: All Christians are called to be one in Christ and to seek opportunities for common witness and service.
Who Are We? – We are Disciples!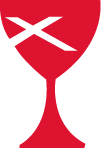 We are one of almost 3,800 churches in the
Christian Church (Disciples of Christ)
a Protestant denomination with a heritage of compassion and concern for all people. We are people of diverse backgrounds, but claim our common cause in Jesus Christ. We celebrate and encourage the participation and leadership of both men and women. We value lifelong education, and have a variety of ways to grow by engaging in study, fellowship and activities. Disciples support world and national programs of education, agricultural assistance, racial reconciliation, care of the developmentally disabled and provide aid to victims of war and calamity.
SaveSave
SaveSave