Branson Trip!
It's time to get your deposit in for our Branson Trip! We will go Oct. 8-11. Check out the schedule below.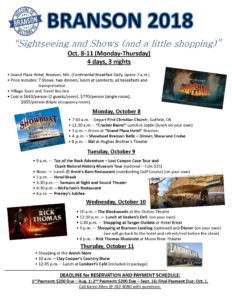 Retired Fellowship – Young-At-Heart Group
A group for those who: are retired, almost retired, feel like they should be retired or just like to hang out with people who are retired! (no age requirement – you're never too young, you're never too old to go!)
Gleaner's Class Lunch – Join our Adult Sunday School Class the last Sunday of every month as they gather for fellowship and food in the Reception Hall across from the Sanctuary. The meals are potluck and always open to anyone who wants to attend. E-mail Peggy Momsen to find out this month's "food theme" or more about the Gleaner's Class and the luncheons.
Here's a few of the places we've gone –
Braum's Tour • Dinner and a Movie at Bricktown • Azalea Festival in Muskogee • Philbrooke Museum in Tulsa • Chickasha Festival of Lights • Movies at Tinseltown • Braums (every trip!) • Yukon and Midwest City Christmas Lights Tour • Cheasepeake Lights Tour • Lunch at City Arts • "Passages Tour" at the OKC Arts Museum • Eischen's in Okarche • Pioneer Woman Mercantile at Pawhuska
We take a week-long trip to Branson, Mo. each fall, and we also travel to Eureka Springs, Ark. on a 3-day trip every other year.
If you are interested in joining our group for outings or have ideas of places to go, contact Karen Allen for more information (282-4080).